ESPnet: End-to-End Speech Processing Toolkit
S. Watanabe, T. Hori, S. Karita, T. Hayashi, J. Nishitoba, Y. Unno, N. Enrique Yalta Soplin, J. Heymann, M. Wiesner, N. Chen, A. Renduchintala, T. Ochiai, in: INTERSPEECH 2018, Hyderabad, India, 2018, pp. 2207–2211.
Download

INTERSPEECH_2018_Heymann_Paper.pdf
288.91 KB
Conference Paper | English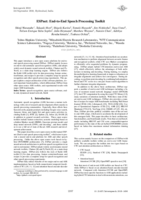 Author
Watanabe, Shinji; Hori, Takaaki; Karita, Shigeki; Hayashi, Tomoki; Nishitoba, Jiro; Unno, Yuya; Enrique Yalta Soplin, Nelson;
Heymann, JahnLibreCat
; Wiesner, Matthew; Chen, Nanxin; Renduchintala, Adithya; Ochiai, Tsubasa
All
Abstract
This paper introduces a new open source platform for end-toend speech processing named ESPnet. ESPnet mainly focuses on end-to-end automatic speech recognition (ASR), and adopts widely-used dynamic neural network toolkits, Chainer and Py-Torch, as a main deep learning engine. ESPnet also follows the Kaldi ASR toolkit style for data processing, feature extraction/format, and recipes to provide a complete setup for speech recognition and other speech processing experiments. This paper explains a major architecture of this software platform, several important functionalities, which differentiate ESPnet from other open source ASR toolkits, and experimental results with major ASR benchmarks.
Proceedings Title
INTERSPEECH 2018, Hyderabad, India
All files available under the following license(s):
Creative Commons Public Domain Dedication (CC0 1.0):
Access Level

Open Access
Last Uploaded
2022-02-23T08:03:13Z
Export
Marked Publications
Search this title in

Google Scholar