A Knowledge Development Perspective on Literature Reviews: Validation of a New Typology in the IS Field
G. Schryen, G. Wagner, A. Benlian, G. Paré, Communications of the AIS 46 (2020) 134–186.
Download

RA-18-198.pdf
1.15 MB
Journal Article | English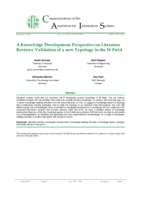 Abstract
Literature reviews (LRs) play an important role in the development of domain knowledge in all fields. Yet, we observe a lack of insights into the activities with which LRs actually develop knowledge. To address this important gap, we (1) derive knowledge building activities from the extant literature on LRs, (2) suggest a knowledge-based typology of LRs that complements existing typologies, and (3) apply the suggested typology in an empirical study that explores how LRs with different goals and methodologies have contributed to knowledge development. The analysis of 240 LRs published in 40 renowned IS journals between 2000 and 2014 allows us to draw a detailed picture of knowledge development achieved by one of the most important genres in the IS field. An overarching contribution of our work is to unify extant conceptualizations of LRs by clarifying and illustrating how LRs apply different methodologies in a range of knowledge building activities to achieve their goals with respect to theory.
Journal Title
Communications of the AIS
All files available under the following license(s):

This Item is protected by copyright and/or related rights.
[...]
Access Level

Open Access
Last Uploaded
2020-03-05T10:36:15Z
Export
Marked Publications
Search this title in

Google Scholar