Erratum: Efficient implementation of the GW approximation within the all-electron FLAPW method [Phys. Rev. B 81, 125102 (2010)]
C. Friedrich, S. Blügel, A. Schindlmayr, Physical Review B 104 (2021).
Journal Article | Published | English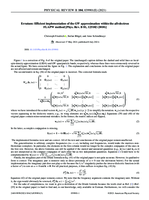 Author
Friedrich, Christoph; Blügel, Stefan;
Schindlmayr, ArnoLibreCat

All files available under the following license(s):

This Item is protected by copyright and/or related rights.
[...]
File Title
Erratum: Efficient implementation of the GW approximation within the all-electron FLAPW method [Phys. Rev. B 81, 125102 (2010)]
Description
© 2021 American Physical Society
Access Level

Open Access
Last Uploaded
2021-07-15T20:16:55Z
Export
Marked Publications
Web of Science
View record in Web of Science®
Search this title in

Google Scholar