Ultrafast electric control of cavity mediated single-photon and photon-pair generation with semiconductor quantum dots
D. Bauch, D.F. Heinze, J. Förstner, K. Jöns, S. Schumacher, Physical Review B 104 (2021) 085308.
Download

2021-08 Bauch PhysRevB.104.085308.pdf
887.44 KB
Journal Article | Published | English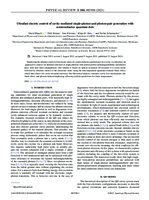 Abstract
Employing the ultrafast control of electronic states of a semiconductor quantum dot in a cavity, we introduce an approach to achieve on-demand emission of single photons with almost perfect indistinguishability and photon pairs with near ideal entanglement. Our scheme is based on optical excitation off resonant to a cavity mode followed by ultrafast control of the electronic states using the time-dependent quantum-confined Stark effect, which then allows for cavity-resonant emission. Our theoretical analysis considers cavity-loss mechanisms, the Stark effect, and phonon-induced dephasing, allowing realistic predictions for finite temperatures.
All files available under the following license(s):

This Item is protected by copyright and/or related rights.
[...]
Access Level

Open Access
Last Uploaded
2021-09-07T07:43:47Z
Export
Marked Publications
Search this title in

Google Scholar